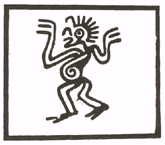 DR. VAN VAN MOJO

'Tis th fifth of Discord, a.k.a. Mojoday; we honor th Discordian voo doo meistro, th Apostle known as DR. VAN VAN MOJO in whatever way seems inappropriate. I may busk & improvise on streets Discordian melodies of irritation & anxiety, or I may nap. Right about now, urination sounds pretty good, so perhaps shall I pee in honor of Mojoday?

This paragraph constitutes an official "shout-out" to my Discordious brother Eric, who has sufficiently explained to me both heads & tails of his previous fnord which did grace my blooooog. Let's do wondermagic(k) in Troy-town, say?

I humbly suggest in th time of my being that folks band together for th doing of a Discordian tea ceremony in ways of ultimate.